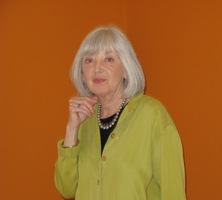 About the Artist
Elizabeth DaCosta Ahern graduated from Boston University, Boston, MA and The School of the Museum of Fine Art, Boston, MA. and also studied in tutorials with Helen Frankenthaler at the Fine Arts Institute of Santa Fe College in NM. She was invited to participate in the American Artist Abroad program in Luanda, Angola and in Lisbon, Portugal. She received the Kinnicutt Travel Award from the Worcester Art Museum, and was a finalist in painting, drawing, and printmaking from the Massachusetts Cultural Council.
DaCosta Ahern has lectured on her work at the the University of Coimbra, Coimbra, Portugal, University of Porto, Oporto, Portugal, and the Rangel Art School, Luanda, Angola. As a faculty member, she taught painting at Lesley University, Cambridge, MA, the DeCordova Art Museum, Lincoln, MA, the Worcester Art Museum, Worcester, MA, the Fitchburg Art Museum, Fitchburg, MA and the Island Center for the Arts, Skopelos, Greece as well as Ghost Ranch, Abiquiu, New Mexico.
Her paintings are exhibited in galleries and are in the collections of the Princess Noura Bint Abdulrahman University in Riyadh, Saudi Arabia, the Federal Reserve Bank, Dana Farber Cancer Institute, American Board of Surgery, DeCordova Museum, the Bank of America, Fidelity Investments, Blue Cross and Blue Shield, Cubist Pharmaceuticals, Hancock Insurance, Prudential Insurance, IDG Ventures Management and many other corporate and private collections.